Motohistory Quiz #78
(4/30/2010)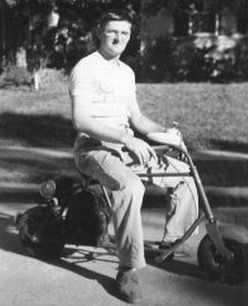 What is this man riding?
No, this is not a home-built scooter. It is a manufacturer's serial production model.
Name the manufacturer and you will be declared our newest Motohistory Know-It-All, complete with personalized diploma.
Be careful! It may not be what you think it is.
Send your answer to Ed@Motohistory.net.
Motohistory Exclusive
The Killinger & Freund confirmed;
photographed in the United States!
(4/30/2010)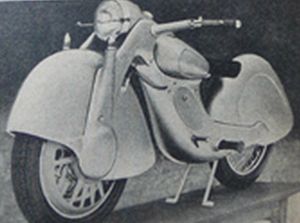 Last month we learned a lot about the Killinger & Freund (pictured left) when we chose it as a Motohistory Quiz (see Motohistory News & Views 3/31/2010). We learned that while it is one of the most unusual motorcycles in the world—only a single prototype is known to exist—it is one of the best known. We received a flood of correct answers for the quiz, far more than we had received for any previous quiz. We also learned that the K&F is the source of interesting rumors, one being that it was sold by a U.S. collector to a man in Germany years ago, but that its whereabouts in Germany is not known.
The reason that people on the trail of the K&F have not found it in Germany is because it is not there. It is still in the United States, and Motohistory was given the opportunity to photograph it, provided we would not disclose its location or who currently has custody of it. These facts are know by a few people in the antique motorcycling community, but they are not talking for the same reason we agreed to safeguard the information. The current custodian of the bike does not want to be inundated with inquiries from the curious. But what you see here is confirmation of the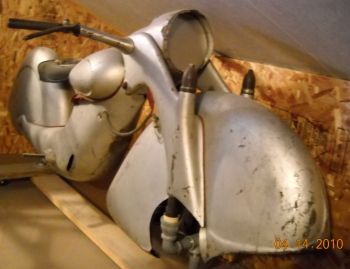 existence of the incredible K&F. These photos, all date-stamped 4/14/2010, were taken in the American Midwest.
As reported previously, the K&F was first shown at the Berlin motorcycle show in 1938. It was an incredible machine in every aspect, and immediately captured the imagination of the public and press. If performance in production models had lived up to the unique features of its design, it likely would have changed the course of motorcycle design ever after. But this did not happen, because Adolf Hitler was too busy planning to change the course of history. It is reported that production plans were laid for the K&F, and that a batch of pre-production engines and gear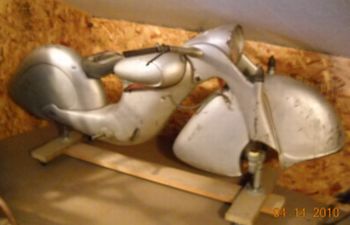 sets were made, but all came to a halt when the Reich order that German industry direct all of its efforts toward military mobilization.
The K&F prototype went into storage and was discovered and seized by the U.S. Army at the end of the war. It was taken to the Aberdeen Proving Grounds in Maryland, and was placed on display there for a period of time. Later, it was discovered in a scrap heap and purchased by American collector Harry Buck. The rear hub (pictured below) was missing, but later discovered in the possession of Karl Duffner, who ran it on the front of his 1954 BMW R68 for nearly ten years. Later, Duffner returned his bike to stock and the wheel hung from the rafters of his shop for the next 30 years (to read our feature about Karl Duffner, go to Motohistory News & Views 11/30/2009). By connecting some historical dots, a mutual friend put Duffner and Buck together, and a deal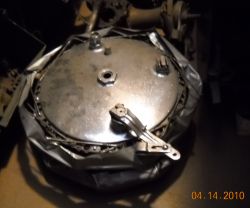 was struck to return the K&F hub to the remains of the bike. The story that the motorcycle had gone back to Germany was later concocted by Buck and the current custodian of the bike to put an end to people calling to see it or try to purchase it.
The sheet metal shell, as pictured here, without the engine and wheels, is surprisingly light. A man can lift it. It has swinging arm rear suspension with hydraulic shock hidden i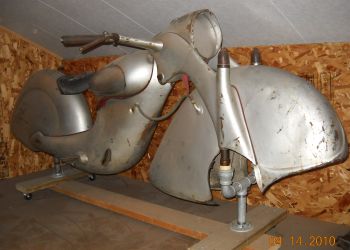 nside the body of the bike. Front shocks are mounted nearly vertical so the bike's wheel base will not change significantly during operation. Today, the bike is in remarkably good condition. Silver paint is still intact and there are only tiny bits of surface rust where the paint has been damaged. Only one or two minor dents can be found on the body.
The K&F engine (pictured below) is as unconventional as the chassis. It is a surprisingly small unit designed to be mounted in the
front wheel. It has been described as a three-cylinder two-stroke, but it is far more complex than this. Rather, it is three two stroke singles with their cranks geared to a center drum which carries the clutch and a two-speed transmission (see the drawing below). We did not have a scale to weight the engine, but we estimate that it did not weigh much more than 40 pounds.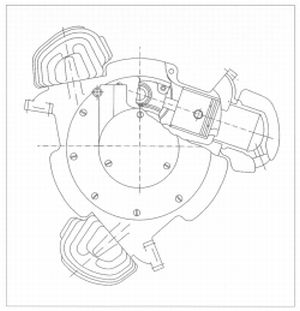 With so much original material at hand, and in good condition, one might wonder why this historical wonder has not been restored already. The fact that it has been hidden away for so many years speaks to the reverence the current holder has for this machine and the seriousness of his task. He is a remarkable fabricator and skilled machinist, but has chosen to leave the K&F in peace until he has drawings or more original engineering information. At this time, people in three countries are on the hunt for drawings and more information. There is little doubt that one day the incredible K&F will see the light of day, and that the public will view it in a condition close to that when it was unveiled in Berlin 72 years ago.
The Killinger & Freund memorialized
Even with no knowledge or interest in the amazing and unorthodox engineering that lies beneath the skin of the K&F, one's imagination is excited by its visual impact alone.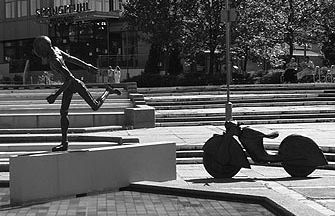 This was the case for artist and sculptor Rolf Biebl, who placed a bronze sculpture of the motorcycle in his "Well of Generations," which graces the Helene-Weigel-Platz in Berlin. Biebl memorializes not only the futuristic K&F, but has placed near it the sculpture of a motorcyclist, dressed in leathers and body armor. Consider that Biebl had thousands of images of motorcycles to choose from when he created his Well of Generations in 1990. Rather, he chose a motorcycle that had appeared only briefly some 50 years earlier, and left little influence on the evolution of motorcycle design, thanks to the outbreak of the Second World War. Biebl's use of the K&F is clear testimony of its beauty and appeal to the modern eye. For more information about Rolf Biebl and his work at German Wikipedia, click here. For the story in English, click here. For additional images of Helene-Weigel-Platz at Flickr, including Biebl's sculptures, click here.
Killinger & Freund:
Notes from a designer
By Craig Vetter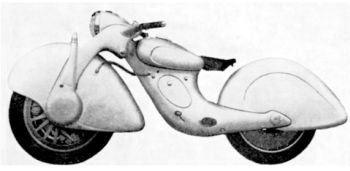 Ah, the 1938 Killinger & Freund! I first discovered it on Page 84 of "Motorrader, Motobuch Verlag Stuttgart," written in German. It may just be the finest example of streamlined style of the era. I say "streamlined style" because it is not really streamlined at all. Real streamlining is a smooth, continuous shape, round at the front, and pointed at the rear. Streamlining allows the least power to go the fastest and farthest on the least amount of fuel. When motorcycle designer and pioneer Glenn

Curtiss realized this in 1920, his airplanes went from 100 mph to 250 mph in just five years!
While airplane manufacturers embraced streamlining immediately, vehicle manufacturers never did, although they imitated the shapes born from true streamlining. Think of the Auburn automobile, the fuel tank of the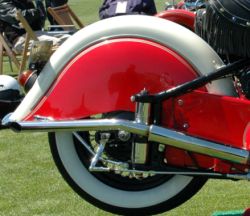 Harley-Davidson Knucklehead, or the unforgettable lines of the 1940 Indian. Designers learned that streamlining is easy to imitate but very difficult to actually do.
So, except for specialized racing vehicles, streamlining for cars and motorcycles has not progressed beyond a "look" or a style. Headlights, fenders, gas tanks became rounded in the front and pointed at the rear, but they were little more than visual enhancements of vehicles that remained "un-streamlined."
Killinger & Freund took streamline style to the extreme. Every part was made round at the front and pointed at the rear. But streamlined parts do not a streamliner make, especially with a motorcycle. While an automobile is the same whether or not it contains passengers, a motorcycle is very different. Look what happens when this unknown rider climbed aboard the Killinger &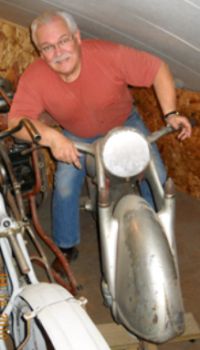 Freund. His frontal area—especially for a guy as portly as this—completely overwhelms the package. Does anyone really think that these pretty streamline style parts are helping the motorcycle slip through the air with a rider aboard? The effect of any streamlining is neutralize.
This, incidentally, leads me toward a discussion that is especially interesting to me as a designer. Should a motorcycle be designed to look good standing on its own, or should it be designed to look good with a rider aboard. Again, this is something that an automobile designer would never have to think about, but it is an important question that motorcycle designers probably should not ignore. I expect most motorcycles throughout history have been designed with no thought to how they look with a rider.
But, back to the Killinger & Freund. Beyond the issue of style, let's consider some of the engineering. Think about the effects of that clever front "wheel-engine." Suspension improves with less un-sprung weight. The un-sprung weight at the K&F's front will be tremendous; probably amounting to more than a quarter of the weight of the whole package. This thing was probably a real boneshaker. And what would it be like to do maintenance on this motorcycle? But, I love the Killinger & Freund because it is such an extreme and wonderful example from the streamline era. I am so glad to know that it still exists with many of the parts intact, and may be running and back on the road in the future.
Editor's Note: Craig Vetter continues his study to develop streamlining as a practical and effective element in real-world motorcycling, aimed at increasing fuel efficiency and reducing environmental impact. To learn more, click here.

To the K&F
A silver, swoopy
Projectile to the future;
Killinger und Freund.
The Brough Superior
Inline Four
By Mick Duckworth
(4/27/2010)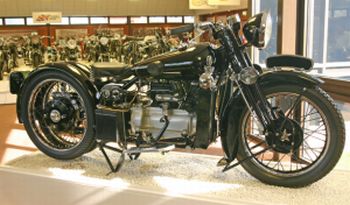 Although Brough Superiors sold mainly for their speed and handling, flamboyant proprietor George Brough yearned to create the ultimate in motorcycling luxury. This ambition led to a series of four-cylinder designs, all of which stand apart from the general run of contemporary British offerings. Built in rapid succession in 1928 and 1929, the first fours had air-cooled side valve engines. A transverse V-four was followed by a straight four, both with crankshafts in-line with the frame. Transmissions were fixed behind the crankcase in automobile fashion, but 90-degree bevel gears provided chain final drive.
Neither design offered effective cooling of the rear cylinders, a problem addressed by the next four, sensationally revealed at the 1931 Motor Cycle Show at Olympia in London. Brough built it around the water-cooled power unit of the popular Austin Seven car. Power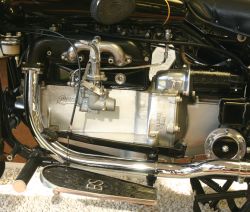 and torque were boosted by boring out from 56mm to 57.9mm, raising displacement from 750cc with the standard 76mm stroke to 800cc. Electric starting was part of the package. This time, final drive was by shaft with a helical bevel unit that did not need to be offset from the machine's center-line as there were two rear wheels, placed on either side of the drive. The bevel box was carried by two horizontal tubes extending back from the main frame, which supported the power unit on a rectangle of stout tubes with cross-bracing.
Radiators were set either side of the down tubes, with sheet metal surrounds to provide weather protection, also offered by generous valancing of the rear fenders. Aluminum footboards were provided for comfort, with pedals for the clutch on the left and brake on the right. The Zenith carburetor was operated by cable from a twistgrip on the left handlebar, leaving the rider's right hand free to select three forward gear ratios and – great for entertaining onlookers - reverse.
The 1931 show exhibit had a sidecar attached. Those who questioned whether it could be ridden without one were answered when Hubert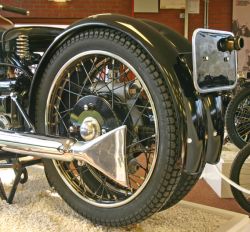 Chantrey completed the 1932 London to Exeter long distance trial on a solo machine, reporting his exploits in Motor Cycling. When cornering, only one rear tire is in contact with the road.
Ten Austin Fours were built: selling at £160 the model was less successful than its 600cc Ariel Square Four contemporary, which cost a mere £67. Even an Austin 7 car could be had for less. The machine pictured here is displayed at Birmingham's National Motorcycle Museum in Great Britain. It was originally assembled by BS expert Albert Wallis, based on a known example that had been scrapped. It does not have radiator shrouds or deep rear fender valances.
Brough's more promising flat four project—the Golden Dream—followed, but its development was stymied by World War Two. To read our Motohistory feature about the Brough Golden Dream, go to Motohistory News & Views 12/4/2006. To access the web site for the National Motorcycle Museum, UK, click here.
New Motorsportsfilms
web site launched
(4/24/2010)

Dick Lague, whose IGNITION3 production company has produced outstanding documentaries from ISDE events in recent years, has now launched Motorsportsfilm.com, offering a comprehensive collection of the best automotive and motorcycle DVDs from throughout the world. Lague says, "You can try before you buy by previewing the best selling shows so you will know what you are going to get." He adds, "The site has been designed to be easily searched, and checkout is configured to be quick and direct. All major credit cards are accepted, as well as PayPal and Google Checkout." To access the new site, click here.
Fast From the Past
arrives in Newburgh
(4/21/2010)
Editor's Note: Motohistory is a little more abbreviated this month than usual, mainly because I was up to my ears in relocating the "Fast From the Past" exhibit from Hershey, Pennsylvania to Newburgh, New York. I faced similar circumstances last year when we assembled the exhibit in Hershey (see Motohistory News & Views 5/31/2009). At that time, I made an apology to readers and offered a picture of myself in my Carhartt overalls, my traditional garb for museum exhibit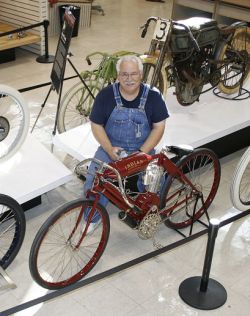 work. So many readers were amused by that image that I decided to publish another this year, just to prove I wasn't just farting off this month. By the way, my wife thinks it's stupid. She can't understand why I can't build an exhibit in jeans and t-shirt like everyone else. Well, I just can't! It's an image thing, you know. Like that guy wearing scrubs in front of you in line every morning at Starbucks.
Through a partnership between the Gerald A. Doering Foundation and the Antique Motorcycle Foundation, later this year a new facility will open that will provide nearly 50,000 square feet of exhibit space, featuring motorcycles only. Located in the Hudson Valley town of Newburgh, New York, the new facility has some exhibits already in place while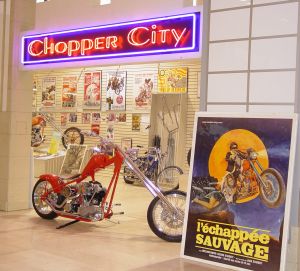 other portions of the building remain under renovation. An opening date has not been announced, but Motohistory will continue to report progress to its readers.
The main floor will open with two distinctly different exhibits. "Chopper Art: The 1960s Revisited," featuring the collection of Ted Doering, will tell the story of America's unorthodox motorcycle artists who developed the chopper into a rolling art form during one of the greatest decades of social change in American history. In addition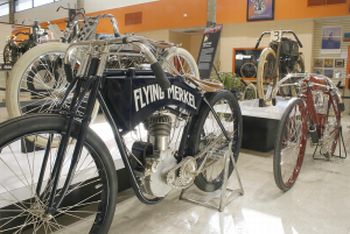 to examples by some of the leading builders, such as Ron Finch and Ed "Big Daddy" Roth, the display will include a rich collection of memorabilia, including magazines and movie posters.
Sharing the same floor with Chopper Art is an expanded version of "Fast From the Past: The Competition Motorcycles of Yesteryear," which just completed its one-year run at the Antique Automobile Club of America Museum in Hershey, Pennsylvania.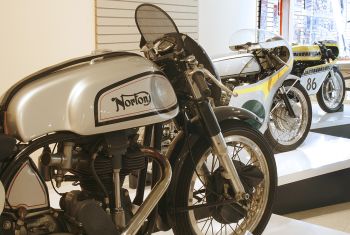 Composed of more than 60 motorcycles owned by members of the Antique Motorcycle Club of American, the exhibit depicts competition motorcycles from 1905 to the 1980s, including board track racers, road racing machines, hill climbers, enduro and observed trials bikes, motocrossers, dirt track machines, drag racing and speed trials bikes, and even midget racing cars powered by motorcycle engines.
For another story about the exhibit, go to Motohistory News & Views 3/25/2010.
Later-day Vincent
prototypes go to auction
(4/18/2010)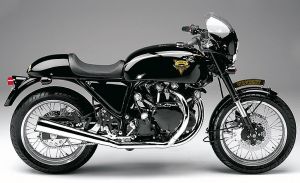 Four pre-production Vincent revival concept bikes, developed by the late California entrepreneur Bernard Li, will be auctioned by Bonhams' at the Quail Lodge Motorcycle Gathering on May 8. Starting in 1994, Li acquired the United States Vincent trademark rights, then commissioned an updated "Phase I" prototype using a modernized version of the old Vincent motor (pictured above). When this proved impractical for mass production, Li embarked on a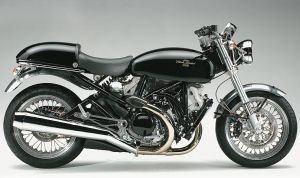 clean-sheet redesign, hiring Roush Industries to build prototypes with modern engines. Li's untimely death in 2008 brought the project to a halt. The lots for auction will include the Phase 1 prototype with Vincent engine, and three more prototype models with Honda engines (pictured here). For more information about the auction, click here. To learn more about Li's Vincent Motors venture, click here.

(4/16/2010)
How often do you find a Hildebrand & Wulfmuller in your basement? To read about one such case, click here.
For images of the legendary Anke-Eve Goldman at Nurburgring on Flickr, click here. To read her story on The Vintagent web site, click here.
Bator International Auctions has announced the California Classic Motorcycle Auction at the Pasadena Convention Center on June 5. For more information, click here.
Bridgestone motorcycles will be featured at AMA Vintage Motorcycle Days 2010. For more information, click here.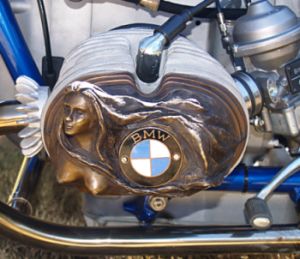 Hang the purists! If you want to put sexy lady valve covers on your airhead BMW, then do it, just like Craig Vechorik did with his 1969 BMW with Steib R75 conversion. For more photos on the Bench Mark Works web site, click here.
The Wheels Through Time Museum web site has a wonderful story about Creed and Virgie Kirkpatrick, who relocated their whole family in 1933, using a 1929 JD and sidecar, with the sidecar carrying all five of their kids. This trek was recently re-enacted by descendants with the help of WTTM. Click here. WTTM's Time Machine also treats us to a video of a running 1913 Thor. Click here. By the way, another of WTTM's running rarities, the one-of-a-kind 1912 Elk, was featured recently on the Cyril Huze Blog. Click here.
There's been a lot of buzz about the up-coming Cannonball Endurance Run for pre-1915 motorcycles. Well, Chris Sommers Simmons has decided it's not just for the boys. Click here.
You have only until May 7 to submit your design for the 30th Annual Wings & Wheels logo, for which you could win $500 worth of books from Motorbooks. For more information, click here.
The Spring issue of the International Journal of Motorcycle Studies has arrived. To read it, click here.
IGNITION3, the company that has brought you excellent ISDE video documentaries, has launched a new motorsports video web site. Click here.
How many of you American readers remember fondly the Mustang, built from 1947 through 1965? Well, the Mustang is back. To read about it on the Motorcycle Classics web site, click here. To access the manufacturer's web site, click here.
The 19th Heart of America Motorcycle Enthusiasts Bike Show and Rally will take place June 6 at the Airline History Museum at Wheeler Airport in Kansas City. For more information, click here.
The Goulding LS29 sidecar is now being accurately replicated in Poland. For more information, click here.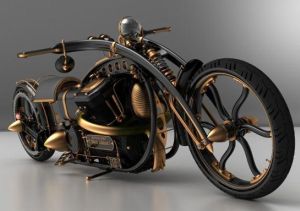 Seems like all we read about these days is how our lives will be made greener by electric vehicles, including electric motorcycles. But some would prefer to return to steam. Check out the Black Widow Steampunk Chopper. Sweet, huh? For more pix, click here.
The Ohio Valley BSA Owners Club Spring Classic will take place June 5 and 6 at Cable's Campground near Toronto, Ohio. For more information, click here.
The 2010 Triumph Come Home Rally is scheduled for June 18 through 20 at Spring, Grove, Pennsylvania. For more information, click here.
The 38th Paris National Canadian Vintage Motorcycle Group Rally will take place at the Paris, Ontario Fairgrounds June 18 through 20. For more information and on-line registration, click
here.
The Indian Motorcycle Rally at Hilltop Farm, George Hendee's former estate in Suffield, Connecticut, will take place July 17. For more information, click here.
The Cross Island Motorcycle Club will celebrate its 60th anniversary on May 22. To reach Cross Island on the web, click here.
There is now a Yahoo group for Reading Standard enthusiasts. Click here.
Harley-Davidson Museum restorer/conservator Bill Rodencal is preparing a motorcycle for the Cannonball Endurance Run. To watch him on YouTube, click here and here.
Michael Lichter's 10th Annual Sturgis Motorcycle Exhibit will run August 7 through 13. To read about it on the Cyril Huze Blog, click here. To access Lichter's web site, click here.
Live in or around Tennessee? The new Grease Monkey magazine will tell you all about upcoming meets and shows in the Volunteer state. Click here.
AMCA unveils new
Custom Culture judging class
(4/14/2010)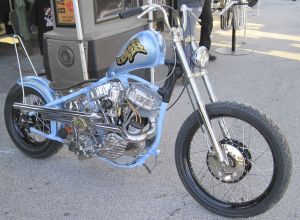 Two of this year's Antique Motorcycle Club of America national meets will feature a special Custom Culture Class, designed to highlight ways that motorcyclists express themselves through their machines. The class will focus specifically on the era of the 1960s and early '70s, the era when the custom-bike culture really took off, culminating in the development of the American-style chopper and the European cafe racer. The sole eligibility rule for participating in judging is that bikes must have an engine that was sold in a production motorcycle sometime between 1960 and 1975. Otherwise, entrants are free to take the concept in any direction they choose.
The Custom Culture Class will be sponsored by prominent motorcycle publications at two of the AMCA's premiere National Meets this season. Hot Bike magazine will sponsor the class at the AMCA Fort Sutter Chapter National Meet June 18 through19 in Dixon, California, and Cycle Source magazine will sponsor the class at the AMCA Chief Blackhawk Chapter National Meet September 2 through 5 in Davenport, Iowa. The winning bike at each event, as judged by magazine editors, will be the subject of a feature story in the sponsoring publication. Bike owners do not have to be members of the AMCA to enter. For information about the Custom Culture Class at the Fort Sutter meet, click here. For information about the class at the Chief Blackhawk meet, click here. For more information about the AMCA, click here.
Eyes On Design
is looking for a few good motorcycles
(4/12/2010)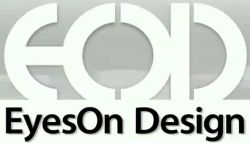 This year's Eyes On Design show will be held again at the historic Edsel B. & Eleanor Ford estate on the shores of lake St.Clair in Grosse Pointe, Michigan on June 20th. This invitation-only event is a high-end concours d' elegance that will feature approximately 200 cars, 25 motorcycles, and twelve scooters. If you have a significant and interesting motorcycle or scooter that you think may qualify for presentation, contact Andrew Sirvio at asirvio@sisuprint.com. Vehicles of any nation of origin are eligible. For more information about Eyes On Design, click here.


Motohistorians get discount
at Roll On Columbus
(4/10/2010)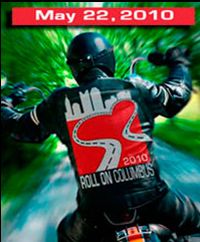 If you live in the American Midwest, you may want to drop in on Roll On Columbus, a one-day event to raise funds for Nationwide Children's Hospital. The May 22 event, taking place in the Arena District in downtown Columbus, Ohio, will feature four live bands, the motosphere, observed trials exhibitions, extreme riding shows for motorcycles and quads, a scooter gymkhana, safety exhibitions, seminars, a silent auction, venders, and a drawing for a $25,000 custom bobber. It will be a non-stop extravaganza of motorcycle-related entertainment, all kicked off by the Ohio State University Buckeyes Alumni Band.
Admission is $15 at the gate or $12 through advanced registration. Furthermore, Motohistory readers who register in advance can take off a dollar, lowering their cost to $11.00. For more information, click, here. To order your tickets, click to the "Event Tix" page at Rolloncolumbus.com.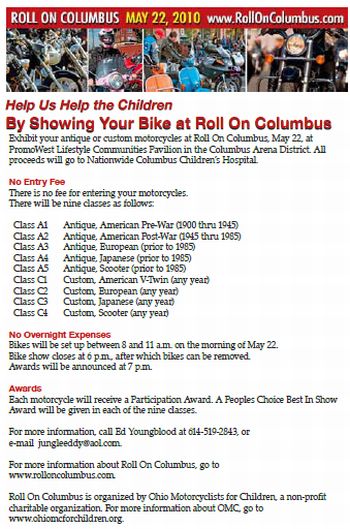 To order tickets with our Motohistory discount, click here.
In addition to all of the outdoor entertainment described above, there will also be indoor antique and custom bike shows. There is no entry fee for the bike shows, each participant will get a plaque, and there will be a People's Choice Best In Show award in each of the two categories. More information and classes are provided in the flyer published here.
Proceeds from the event will go to Nationwide Children's Hospital. For more info on the hospital, click here.

There's just nothing
for a vintage biker to do
(4/8/2010)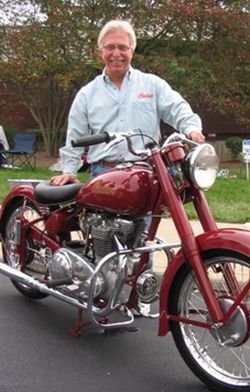 Motohistory contributor Larry Barnes (pictured here) recently submitted his "2010 nothing to do" list of activities for a vintage motorcycle enthusiast. And this is just in the eastern US.

May 1-2 Massillon, OH Rocky's AAIMC Spring Fling
May 14-16 Denton, NC Antique Club Meet
May 22 Columbus, OH Roll On Columbus Bike Show
May 23 Greenville, OH AHRMA race
May 29-30 Canton, OH race
June 4-6 Ithaca, NY Festival & Bike Ride
June 11 Dayton, OH AHRMA race
June 11-13 Rhinebeck, NY Antique Meet
June 18-19 Canton Blues Festival
June 19-20 Dux Fathers Day AAIMC Meet
June 26 Lima AMA Pro race
July 9-11 Ashland race & AMA Vintage Days
July 16 Wauseon Race & Antique Meet
July 30-31 Morgantown, WV Meet
Aug. 5-12 Sturgis
Aug. 6-7 Hammondsport, NY Classic Giro
Aug. 14 Grove City AMA Pro mile
Aug. 28 Indy Mile AMA Pro race
Aug. 29 Indianapolis AMA-FIM Road Race
Sept. 2-4 Davenport Antique Meet
Sept. 4 Springfield Mile AMA Pro Race
Sept 18-19 Hartman Wellington AAIMC Meet
Sept. 23-26 Horner's Asheville, SC Ride-In
Sept. 25-26 Medina, OH Vintage MX races
Oct. 1-3 Jefferson, PA antique meet
Oct. 8-10 Barber Vintage MC Festival

And this isn't even a comprehensive list. There are also the May 14 Riding into History Concours if St. Augustine, FL, the June 11-13 Elkhart Lake, WI Road America Vintage Motorcycle Classic, and the July 9-11 Vintage Motorcycle Days, plus many more Antique Motorcycle Club of America Nationals and Walneck's swap meets. To check out the AMCA schedule, click here. For the Walneck's schedule, click here. To read our feature story about Larry Barnes, go to Motohistory News & Views 4/11/2005.
Larry, have you discussed this plan with your wife yet?

(4/6/2010)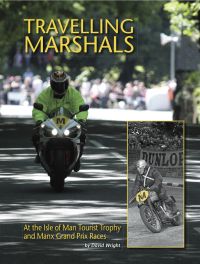 How do the organisers of the Isle of Man TT manage racing over its 37¾ mile Mountain Course when its grandstand-based race controllers can only see a 500 yard stretch of the track? As explained in "Travelling Marshals at the Isle of Man Tourist Trophy and the Manx Grand Prix Races," by David Wright, much reliance is placed on the 1,200 static marshals who are positioned within sight of each other, equipped with radios. However, when racing started over the Mountain Course in 1911, marshals were few and radios did not exist. Once riders had started the race, it was pretty much a case of fingers crossed and hope for the best. This changed in 1935 when a Travelling Marshal service was created, which today consists of eight or more former riders on top sports bikes who remain on station at prescribed points unless called upon to speed to an incident. Some 75 men—including five former world champions—have performed this critical duty, and their exciting story has been told in Wright's book (2001), which has been reprinted in celebration of the 75th anniversary of the founding of the travelling marshal system. Brought up to date with an enlarged format, this book contains more than 240 illustrations on its 270 pages. It is published by Amulree Publications of Laxey, IOM. To order a copy, click http://www.amulree@mcb.net.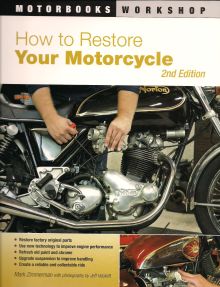 Motorbooks has released its second edition of "How to Restore Your Motorcycle," by Mark Zimmerman with photography by Jeff Hackett. Printed in full color throughout, this 192 page book is packed with photographs, and color coded tabs are provided for each chapter to make reference work quick and easy. Whether you are restoring for concours competition, or just to have an inexpensive and reliable daily ride, the book explains how to use new technology to improve engine performance, how to refresh old paint and chrome, and how to upgrade suspension and handling. There is an index and an appendix with many additional useful sources and references. The price is $29.99 in the US, $32.99 in Canada, and £18.99 in the UK. For more information, click here.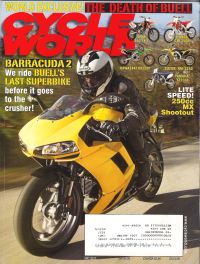 The May issue of Cycle World might well be subtitled "The Buell Requiem Issue." Peter Egan describes the experience of picking over the bones of Buell Motorcycles, the company, during its liquidation sale, Dan Canet describes a ride on the Buell Baracuda 2 prototype before its date with the crusher, and Steve Anderson pens a feature entitled "The Demise of the Buell Motorcycle Company." This is a remarkable piece of journalism that reveals the behind-the-scenes problems, policies, and decisions that went into the termination of the corporation. The story is not at all complementary of the Harley-Davidson Motor Company, neither of its decision-making processes nor its entrenched culture that would result in abandoning the two properties—MV Agusta being the other—that might give Harley-Davidson some hope of reaching younger generations of customers. This article is insightful and sound motohistory. It will become a standard reference for future motohistorians exploring the progress of Harley-Davidson in the 21st century. To subscribe to Cycle World on line, E-mail cycleworld@neodata.com.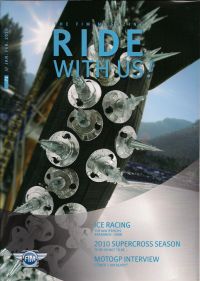 "Yikes, spikes!" is what you might say when you see the cover of the January/February issue of Ride With Us!, the magazine of the International Motorcycle Federation. Consistent with the cover, inside is a history of ice racing, written by FIM press officer Marc Petrier. The story explains how the sport has progressed on the world stage, from a series of international competitions to the creation of an European Championship, the development of national team competitions, and finally the creation of an individual Grand Prix system in 1994. For more information about the FIM,
click here.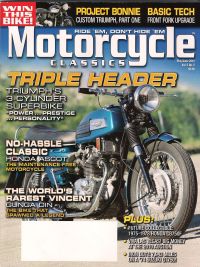 The May/June of Motorcycle Classics features the Triumph Triple on its cover, describing it as a motorcycle that offered power, prestige, and personality. These qualities, the story points out, were not enough to fend off the exciting new Honda 750 Four in the marketplace, especially since the Honda sold for $300 less than the Triumph in the United States. The issue also contains features about Vincent's famous Gunga Din, a rare Ceccato twin-cam racer from the Guy Webster collection, the spectacular collection of cutaway engines and motorcycles owned by Herb Harris, the 1984 Honda Ascot twin, a latter-day Bonneville build, Indian and Harley tank-shift racers Ralph Wessel and Ross Tuffli, a long-distance tour aboard a Suzuki Water Buffalo, and results of the 2010 Las Vegas auction. As always, there is variety and the photography is gorgeous. To subscribe, click here.
Vintage Motorcycle Classic
coming to Road America
(4/4/2010)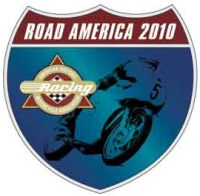 The American Historic Racing Motorcycle Association has held national road races at Road America before, but this year's meeting, scheduled for June 11 through 13, will be an expanded extravaganza that will include motocross, trials, and cross country racing. The full-blown vintage festival will also include a ride and show sponsored by Motorcycle Classics magazine, plus club corrals and a swap meet organized by Classic Swap Meets. About the event, Road America President George Bruggenthies said, "The world of vintage motorcycling is a vibrant, diverse family that includes, collectors, restorers and enthusiasts who just love to ride old bikes, as well as racers. We're throwing a family reunion!" To read about it, click here and here. For a swap meet vendor application, click here.
Don Brown, 1929 -- 2010
(4/2/2010)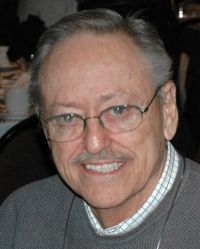 Don Brown, a lifelong member and significant contributor to the American motorcycle industry, died at the age of 80 at his home in Irvine, California on March 24. Brown became involved in motorcycling as a sportsman in 1949, and shortly thereafter joined the industry as a journalist. He aggressively promoted the motorcycle sport through his writing and as a radio commentator, then landed a position as general sales manager at Johnson Motors, importer of Triumph and Ariel. During his time with JoMo, one of his many important contributions was his collaboration with designer Craig Vetter in the creation of the famous Triumph Hurricane. To read Brown's Motohistory dialogue with Vetter about this project, click here. Brown went on to found his own market research organization, numbering most of the major brands and the Motorcycle Industry Council among his clients. He was a member of the Motorcycle Hall of Fame and received both the MIC Chairman Award and the Trailblazers Lifetime Achievement Award. Brown was a good friend to Motohistory, often providing research and historical insight. To read his Motorcycle Hall of Fame bio, click here. For an obit by Don Emde at SuperbikePlanet, click here. To read a memorial on Dealernewsblog, click here.
Don Brown photo from Dealernewsblog.com.